INFOCOM, an initiative from the house of ABP was started in 2002 as a forum that would demonstrate India's quest to be the IT superpower, and has today turned into a forceful and dynamic event that sets the pace for development in the Information and Communication Technology (ICT) sector, bringing potential partners together and helping the industry connect with associates and customers. INFOCOM today is one of the largest congregations of ICT professionals, buyers-sellers, corporate leaders, academics, visionaries, and policymakers in India.
www.abp.in
Founded in 1922, the ABP Group is one of the foremost media conglomerates in India having 11 premier publications, three 24-hour national TV news channels, a leading book publishing business as well as various mobile and internet properties. ABP's portfolio covers a gamut of genres and encompasses premium brands like — Anandabazar Patrika, The Telegraph, Fortune India, Ebela, ABP News, ABP Ananda, ABP Majha and many more…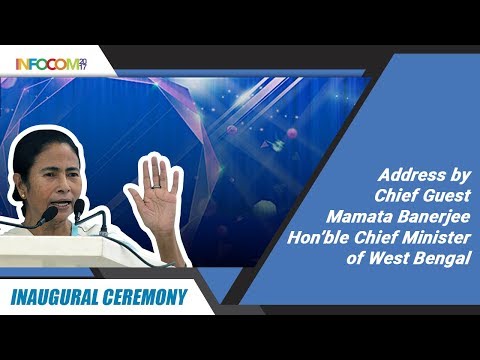 speakers @ INFOCOM CALCUTTA 2022
Sadhguru
Yogi, Mystic and Visionary
Amitabh Ray
MD
Ericsson Global Services India
Anil Valluri
MD & Regional Vice President
Palo Alto Networks
Aparup Sengupta
Founder & Chairman
AAJ Global Foundation
Bhaskar Pramanik
Ex-Chairman
Microsoft & Director SBI
Devdutt Pattanaik
Mythologist
Author & Illustrator
Diwakar Dayal
MD
SentinelOne
KP Unnikrishnan
VP-Marketing
Asia Pacific & Japan-Palo Alto Networks
Kulmeet Bawa
President & MD
SAP India Sub Continent
Nikesh Arora
Chairman
Palo Alto Networks
Rajesh Rege
President
Honeywell India
Shailender Kumar
MD
Oracle India Pvt Ltd
Sharad Sanghi
MD
NTT India & EVP- Data Centre & Marine Cable, NTT Global
Sunil Gavaskar
The Legendary Cricketer
Sunil Gupta
Co-Founder & CEO
Yotta Infrastructure
Vishal Dhupar
MD Asia South
NVIDIA
Anuj Tewari
Chief Information Security Officer
TMF Group
Bimal Kumar Patwari
CEO
Pinnacle Infotech Solutions
Debabrata Das
Director
IIIT Bangalore
Kritika Murugesan
Senior Director, 10,000 startups and Products
NASSCOM
Meetali Sharma
Head – Risk, Compliance & Information Security
SDG Corporation (SDG Software India Pvt. Ltd)
Rajesh Ranjan
Partner & Global Head, Business Process Services
Everest Group
Sanjay Prasad
CIO
CESC Power Group
Sarbani Bhatia
Senior Vice President , IT
Jagran Prakashan Ltd.
A Shiju Rawther
Head – Information Technology
SBI Mutual Fund
Sudipta Sen
President
TCG Digital Solutions Pvt Ltd
Suresh Vijayaraghavan
Chief Technology Officer
THG Publications Pvt Ltd
V Sendil Kumar
Chief Technology Officer
Shriram Capital Ltd
Nitin Varma
Managing Director India & SAARC
CrowdStrike
Riyaz Ladiwala
President and Head – Technology and Operations
Nuvama Wealth
Jimmy Tangree
Head – 91.9 Friends FM
AOPL
Kiran Karnik
Author, Columnist, and former President NASSCOM
NASSCOM
Raghavendra (Raghu) Rao
senior Marketing + Communications professional
Accenture
Xavier Kurian
Director Solutions & Alliances
Dell India Private Limited
Kaushik Bhattacharya
CEO & Co-founder
Ranjhiya Digital
Shri Burra Vamsi Rama Mohan
Chief General Manager (Telecom),
Power Grid Corporation of India
Prasenjit Roy
Chief Marketing Officer
NTT Ltd India, NTT Global Data Centers & Cloud Infrastructure APAC
Sankarson Banerjee
CIO
RBL Bank
Soubhanick Routh
Regional Head – Business Solutions
Tata Communications Limited
V V Rajasekhar
CIO
ITC Limited
Ijazul haque
Chief Information Technology Officer ( CITO )
Commercial Bank of Ceylon PLC Bangladesh Operations
Anant Bhat
Head of XDR Delivery
Cybalt
Abhijit Guha
Founder and Global Chairman
Data Consultants Corporation (DCC Services Pvt.Ltd)
Prateek bhajanka
Technology Strategist
Samrat banerjee
Senior Vice President & CIO
Emami Limited
Debasis Ghosh
MD & CEO
Data Consultants Corporation (DCC Services Pvt.Ltd)
View All
Theme Keynote:

Let Music be the Light of Life!!! by ANGELICA HALE

Theme Keynote:

Valedictory Session: Bengal Silicon Valley IT Hub

Theme Keynote:

Power Panel: The Future Society in a Connected Digital Age

Theme Keynote:

INFOCOM Future Leadership Award 2018 - Jury Perspectives | Felicitation of the Winners

Theme Keynote:

INFOCOM Future Leadership Award 2018 - Presentation by the Finalists - Jury Interactions

Theme Keynote:

Panel: Leveraging Global Markets, Investors & Resources for Entrepreneurship

Theme Keynote:

Keynote: Exploring Investment Opportunities in Digital and Creative Economy

Theme Keynote:

Keynote: The Entrepreneurial Success Story of PRAN – RFL Group

Theme Keynote:

Showcase: Model Projects by Cyber Club of Schools of Calcutta

Theme Keynote:

Workshop: Xtreme Hacking

Theme Keynote:

Keynote: Mitigating the Two Biggest Risks in Cybersecurity - Email and Humans

Theme Keynote:

Keynote: AI in Cybersecurity

Theme Keynote:

Game: Hack the Hackers

Theme Keynote:

Panel: Data Protection & Privacy in the age of Digital

Theme Keynote:

Panel: Security in the Mobile First Workplace

Theme Keynote:

Spotlight Session: JHARKHAND – Taking the Long View

Theme Keynote:

Keynote Address: India's Desperate Need to Generate AI Talent for Business En Masse

Theme Keynote:

Hackstar Keynote: HACKED!!! 4 views

Theme Keynote:

Keynote: When Digital Becomes Human: A Service Provider Perspective

Theme Keynote:

Panel: From IT to IoT and OT – Bridging the growing Cyber Security Divide

Theme Keynote:

Inspirational Keynote: Through the Lens

Theme Keynote:

Leadership Keynote: Preparing for the Next Technology Wave

Theme Keynote:

Panel: Promoting Innovations and Startups in Eastern India

Theme Keynote:

Bihar as an Investment and Business Destination

Theme Keynote:

Travelling Trends for 2020

Theme Keynote:

Experience Bengal

Theme Keynote:

Keynote: Leveraging the Power of Insurance for the New Age

Theme Keynote:

Tourism in Jharkhand

Theme Keynote:

Keynote: The Next Tech Wave

Theme Keynote:

Leadership Keynote: Disrupting The Cybersecurity Status Quo

Theme Keynote:

Keynote: Digital Transformation in Healthcare

Theme Keynote:

Technology Keynote: Realize and Accelerate your Transformation!

Theme Keynote:

Keynote: Digital Transformation in Social Sector Projects - Touching Humanity with Innovation

Theme Keynote:

Spotlight Session: LIFE 3.0

Theme Keynote:

Keynote: Digital Transformation: At the Intersection of Analytics and AI

Theme Keynote:

Panel: Cyber Security and the Millennials

Theme Keynote:

Panel: Creating a New Standard of Trust in Business Transactions

Theme Keynote:

Keynote: Voice Impact in the Customer Journey

Theme Keynote:

Security Keynote: Building a Cyber Resilient Enterprise

Theme Keynote:

Strategy Panel: Humanizing the Customer Experience in the Digital Age

Theme Keynote:

BFSI Panel: Impact of Artificial Intelligence in BFSI segment

Theme Keynote:

Spotlight Session: Celebrating 50 Years of Hema Malini in Indian Cinema

Theme Keynote:

STPI Export Awards 2017-18 - West Bengal

Theme Keynote:

Keynote: Hybrid Multi Cloud – The New Normal

Theme Keynote:

Keynote: Will Human Beings become Obsolete?

Theme Keynote:

Keynote: Threat Centric Vulnerability Management

Theme Keynote:

Panel: Future of Smart Enterprises with IoT, Digital Health and Wearables

Theme Keynote:

Keynote: Impact of Digitization in the FMCG Sector

Theme Keynote:

Keynote: Excellerate your Digital Transformation

Theme Keynote:

Keynote: Building Borderless Minds and Borderless Thinking

Theme Keynote:

Panel: Digital Transformation for the Experience Age

Theme Keynote:

Panel: Impact of AI and IOT in Enterprise Service Management

Theme Keynote:

Master Keynote: 5G to IoT – Developing an Ecosystem

Theme Keynote:

Future Systems by Dr Bhaskar Ghosh

Theme Keynote:

Theme Keynote: When Digital Becomes Human

Theme Keynote:

INFOCOM Calcutta 2018: Inauguration of the Conference
View All
SPONSORS @ INFOCOM CALCUTTA 2022